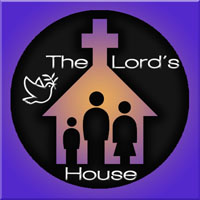 Your Manual for Life On Earth
Here at The Lord's House, we preach the Word of God.  We believer it is inspired by our Heavenly Father and offers His son  Jesus Christ as the Way, the Truth and the Life!  The Bible is our handbook.
If you don't have a Bible, click on the link below!  We will be happy to provide you with a free copy!
The Lord's House Is A Place Where we come together to Meet with Jesus...
On the first day of the week, when we were gathered together to break bread…. Acts 20:7

So we come together to break bread in rememberance of Him and to worship our Savior.  We gather to the storehouse and support the needy.  We come together and pray for healing  and care for our family.    We invite you to become a part of the Family of God!
I cannot express the Love I felt when I first attended The Lord's House. I came from a recent divorce and needed hope. People were so kind and didn't judge me. I have a new found faith in Jesus!
I grew up on the south side, where I was raised by my grandmother. She was a believer and help set my life on a path in the right direction. The Lord's House has been there for me and keep me faithful.
My past was very difficult, but because of the homeless ministry at The Lord's House, I found hope. People were kind to me, giving me a hand up. Thank the Lord He has not forgotten me!
My Family and I were new to the area 4 years ago. After trying out several churches, we found The Lord's House. I love the preaching that is true to the Word, and the fellowship is next to none!
I am so blessed to be a part of the children's ministry at The Lord's House! While going to college I have inteerned in ministy here. It is the best experience I could ask for with great mentors.